Coq aui vin är en väldigt traditionell rätt från Frankrike och har sina rötter så lång tillbaka som Julius Cesar enligt vissa.
Dock så är den inte nedskriven förän 1906 i Edmond Richardin, ed., La cuisine française: l'art du bien manger.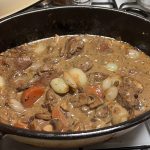 Julia Child hade med coq au vin i hennes kokbok från 1961 – Mastering the Art of French Cooking och lagade den även 2 gång i PDS matlagningsprogram The French Chef. Detta gjorde att den blev mycket populär i USA.
Traditinellt så görs den ju på ungtupp men det går ju inte att få tag i och den är inte heller lika mör som våra vanliga kycklingar. Så här kommer ett recept på Kyckling au Vin.
Tid för tillagning: 40 minuter
Detta behövs till 4 personer:
600 g Kycklingfiléer
1 Gul lök
2 Vitlöksklyftor
1 Stor morot
150 g bacon bitar
300 g färska Champinjoner
4 deciliter Rödvin
1 1/2 msk Tamarisoja
2 Lagerblad
15 Steklökar
3 deciliter Grädde
1 msk Torkad timjan
Salt och peppar
Tillredning
Starta med att dela kycklingen i 3-4 delat per filé. Skala och hacka löken och skala och skiva moroten. Skala och hacka även vitlöken.
Börja med att steka bacontärningarna knapriga i en djup gryta och lägg åt sidan.
Stek sen kycklingbitarna gyllene, och ha på salt och peppar.
Stek sen lök, vitlök, morot i grytan.
Lägg i hackad timjan, kycklingen och baconbitarna. Häll på vin, soja och lagerblad. Låt puttra i ca 10 min under lock.
Under tiden som det puttrar, så skalar men steklöken..
Tillsätt därefter grädden och smålöken och låt puttra ytterligare 10 min.
Medans grytan nu puttarar så tar man en vanlig stekpanna och har i dom delade champinjonerna. Stek på hög värme i smör. Salta så vätskan åker ut.
Häll i champinjonerna i kycklinggrytan och låt de puttra med en liten stund innan du serverar.