I have now finished the next book in the "grand tour" series – This time its the Return to Mars book.
Its a direct sequal to the Mars book.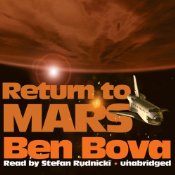 This book take place about six years after the book mars.
Jamie Waterman is going back to mars again. Hopefully to be able to explore the possible cliff dwellings that he might have spotted in the first expedition to mars.
The main problem this time is that the expedition is a commercial one and that there are different prioritys. Will Jamie get to investigate the cliff dwelling. Or will the commercial agendas take precedence?
Will we find ancient rouins or was the structures that Jamie saw in the distance during the first trip to mars someting different.
On top off all this we have an very bitter rivalry and a power hungry boss back on earth who wants his son in the epidition to have a more prominent role but still be safe. And then we discovered that there probably I an sabouture on the epidition the is trying to wreck the mission totally.
As most of the books in the grand tour series the power struggle between the religious fanatics on earth and
Again, The voice of Stefan Rudnicki is a pleasure to listen to and makes the book hard to put down.
Another plus 5 read.
As usual you can find it here at audible.