As this dont work for me any more I have a new entry about how to use Virtualbox to convert and listen to audible content here.
Summer time and reading is a god combination. As some of you know that knows me I do a lot of reading but I do most of it as Audio Books. I have for many years done quite some travelling and sitting and driving for a long time requires something to do. And I listen to Audio books. And preferable Science Fiction. I also listen to quite a lot of Pod Cast, both in general interest like the Weekly Science News and some for more specific interest, like the EVE pod cast for the EVE-Online game.
And I have already talked erlier about my set-up of Amarok so that it would handle my ipod and download my music and pod cast to that. No Problems.
To get my Audio books I have mainly used the Audible Site. This is quite a god site for audio books. Its ofcuase commercial and you have to pay for the books, but its kind of OK. I have been a premium member for 4 years now or so and it works very well. Except for one small think. It only Windows or Mac oriented.
The Audiobooks are encrypted and locked down to you devices – don't ask me how but the files is a .aa file and you have to have special player for that. And they exists in the ipod, and on mac or windows. So you cant play the files on a Linux machine. That is not a big deal for me as I'm only transferring them to my ipod and listen to them there. On my old machine I used the VMware installation I had, and had a Itune setup on it so that it and the audible download helper downloaded it. And then I transferred it to my ipod using the files that itunes created and had Amarok to download it to the ipod. Worked kind of ok even it was an extra step to starup vmware as soon as you whanted to download you books. Well it did not happen that often, so it was ok but would have been nice to no have to do that all the time.
But now when i have moved over to the new machine itunes will not import the file.It complains about write permissions to my music directory and as far as I can see it has all the rights its should have. I was fiddling a bit with the download and found out that:
I could move the download directory of the Virtual harddrive and to my shared device – the download helper had no problems with writing on that disk.
I could also get that file into Amarok and transfer it to the ipod, so it works again.
Wine to the rescue
After thinking a bit and wondering a bit about it, I did some testing with Firefox 3 and Linux. When audible send a download, it will send a small .pl file. On windows the small AudibleDownloadHelper.exe program will then start and download the file and I guess decrypt it or something. So I looked into my vmware installation and saw that there is a directory where the audile things are installed. C:\Program\Audible and it has a Bin directory with 2 .exe files, 2 .dll files and .AUD file. SO i copied that over to my home diretory.
I then run the AudibleDownloadHelper.exe manually (with wine AudibleDownloadHelper.exe) and it popped up the config screen for the program and I could set where I wanted the downloaded files to be stored.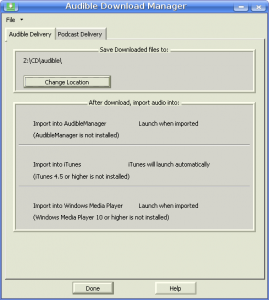 I then run it again with the .pl file as the argument and it actualy downloads the thing and stores it where i whanted. Horay.
So the last thing to test is to set the AudibleDownloadHelper.exe as the program to handle .pl files and it will start the program automatically. This works perfectly and I can now download my Audible books without even having to start vmware.