One thing that really throw me off, when moving over to the iphone is that the standard applications don't contain a to-do list. I did some checks and started out by testing the toodledo app but then I found this.
informant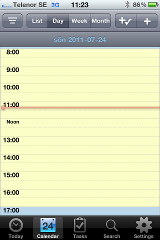 This app is kind of everything i need to have in a calendar/to-do app. It has day, weeks and month views. It can handle todos, and has even sub todos.
It will use the normal building calendar and events and so on and will sync with toodledo, google calendar. As I have my calendar syng to google calendar by default im not shure why I would need to sync this to to google calendar, sso I'm just syncing the to-dos to toodledo.
If you are running with outlook it apparently can sync with that to but need a separate desktop companion program to do that, and as I'm using Linux I have not tested that at all.
If you want you can add icons to events and tasks.
And as usual I am probably only using a small part of it. The list of what it can do is quite long.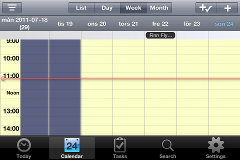 I have found it to hiccup a couple of times. You click on it and the screen flicker and you get back to the home page. Not shure what that is, but when I click on it again and starts up as normal so I'm not sure. But it has never distorted any data.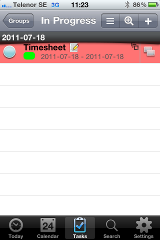 For the to-do part it handels my todos as I want.
It will setup todos at a specific date.
I can have repeating to-dos for both weeks and months.
You can specify a todo on a specific time in the future. All basic functions but they works and are quite good to.
You can have alarms for the to-dos (and for events to) and you can even set multiple alarms if you really want.
So over all im very happy with this and is using it every day.
The only small thing that I'm not totally happy with is that new tasks for a day don't show up at the icon unless you go into the app, so I have to remember to start everyday to go into it.